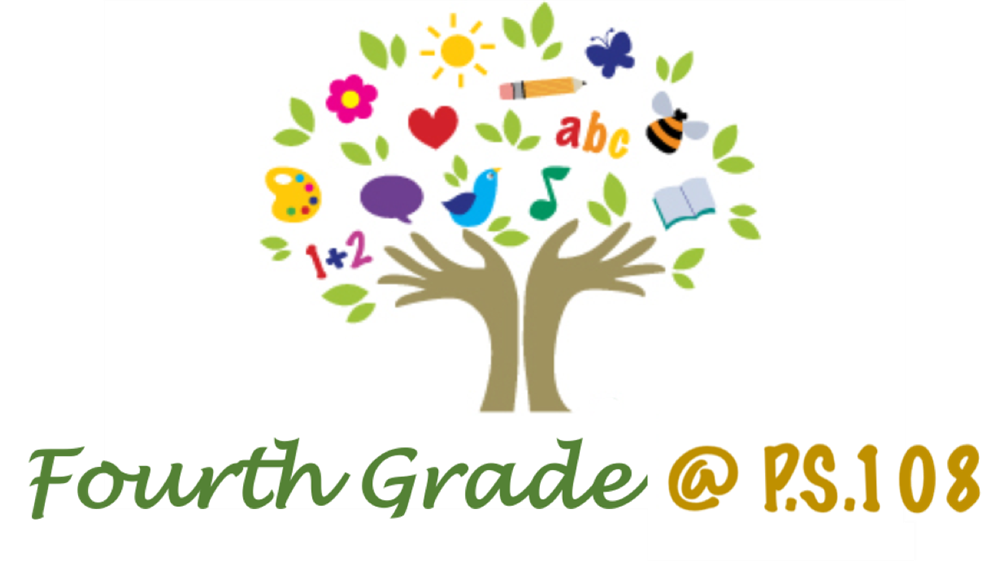 June: What is Grade Four studying?

ELA: Unit of Study: New Nation

Essential Question: What does it mean to be free?

Big Idea: How are the freedoms in the US unique?

Resources:

Life During the Industrial Revolution by Julia Garstecki

Orphan of Ellis Island by Elvira Woodruff

The Memory Coat by Elvira Woodruff

Writing: Opinion Writing

Students will state their opinion and use reasons and evidence to support it.

Students will explore the writing process by recognizing and understanding the five steps. (Prewriting, Drafting, Revising, Editing, and Publishing)

Go Math!:

Chapter 11: Students will measure angles.

Identify and draw parallel lines and perpendicular lines
Sort and classify quadrilaterals
Identify and draw lines of symmetry
Relate angles and fractional parts of a circle
Use a protractor to measure and draw an angle
Determine the measure of an angle separated into parts
Use the strategy draw a diagram to solve angle measurement problems

Chapter 12: Students will use relative sizes of measurement units.

Use benchmarks to understand the relative sizes of measurement units
Use models to compare customary units of length, weight, and liquid volume
Make and interpret line plots with fractional data
Use models to compare metric units of length and mass and liquid volume
Use models to compare units of time Use the strategy draw a diagram to solve elapsed time problems
Solve problems involving mixed measures

Common Core Learning Standards:

4.MD.C.5a - An angle is measured with reference to a circle with its center at the common endpoint of the rays, by considering the fraction of the circular arc between the points where the two rays intersect the circle. An angle that turns through 1/360 of a circle is called a "one-degree angle," and can be used to measure angles.

4.MC.C.5b - An angle that turns through n one-degree angles is said to have an angle measure of n degrees.

4.MD.C.6 - Measure angles in whole-number degrees using a protractor. Sketch angles of specified measure.

4.MD.C.7 - Recognize angle measure as additive. When an angle is decomposed into non-overlapping parts, the angle measure of the whole is the sum of the angle measures of the parts. Solve addition and subtraction problems to find unknown angles on a diagram in real world and mathematical problems, e.g., by using an equation with a symbol for the unknown angle measure.

4.MD.A.1 - Know relative sizes of measurement units within one system of units including km, m, cm; kg, g; lb, oz.; l, ml; hr, min, sec. Within a single system of measurement, express measurements in a larger unit in terms of a smaller unit. Record measurement equivalents in a two-column table. For example, know that 1 ft is 12 times as long as 1 in. Express the length of a 4 ft snake as 48 in. Generate a conversion table for feet and inches listing the number pairs (1, 12), (2, 24), (3, 36), ...

4.MD.A.2 - Use the four operations to solve word problems involving distances, intervals of time, liquid volumes, masses of objects, and money, including problems involving simple fractions or decimals, and problems that require expressing measurements given in a larger unit in terms of a smaller unit. Represent measurement quantities using diagrams such as number line diagrams that feature a measurement scale.

4.MD.B.4 - Make a line plot to display a data set of measurements in fractions of a unit (1/2, 1/4, 1/8). Solve problems involving addition and subtraction of fractions by using information presented in line plots. For example, from a line plot find and interpret the difference in length between the longest and shortest specimens in an insect collection.
Fourth Grade Homework, What to expect?

---

Homework is a crucial part of your child's active learning process and essential to their academic progress. Please make sure that all homework is completed daily.

Please encourage students to read independently each night.

Reflex Math - 2 to 3 times per week.

Get the green light!