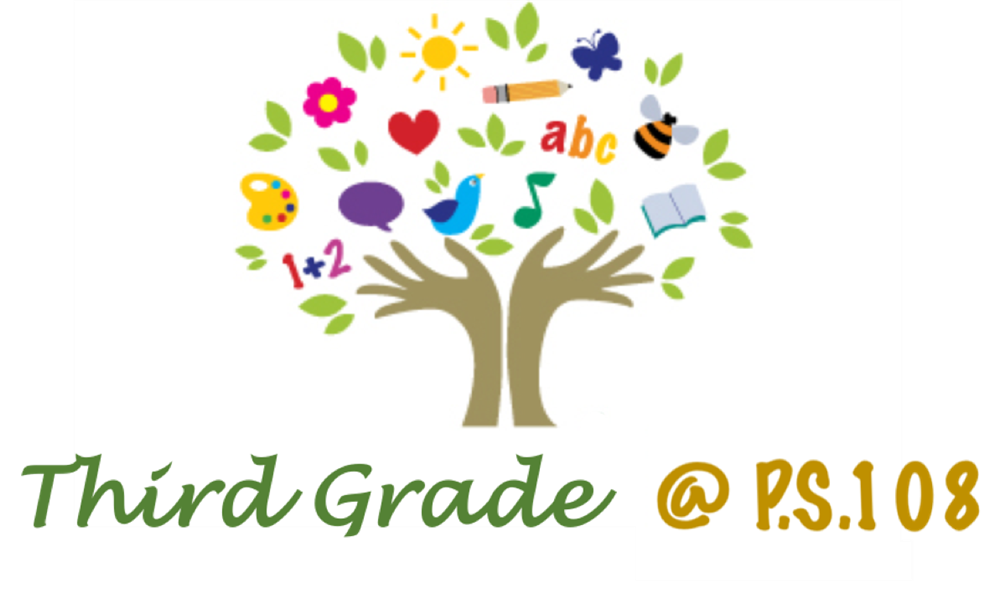 January: What is Grade 3 is studying?

ELA:

Unit of Study: Culture and China

Essential Question: How does culture affect the way people live and work in China?

Students will read nonfiction text and fiction stories to answer the question: What is culture?
Students will read nonfiction text and fiction stories to learn about the geography, culture and natural resources affect the way people live and work in China.

Big Idea:

Students understand that factors such as culture impact where and how people live.

Students understand that readers use a variety of strategies and skills to understand complex text.

Resources:

China: People and Culture

Writing: Informative Writing

Students will use the writing process and 6+1 Traits of Writing to share their research on culture including cultural recipes.
Students will use the writing process and 6+1 Traits of Writing to share their research on topics related to the culture of China.

Eureka Math:

Module 3: Multiplication and Division with Units of 0, 1, 6-9, and multiples of 10

Students will...…

apply the distributive and commutative properties to relate multiplication facts
count by units to multiply and divide
interpret the unknown in multiplication and division

Module 4: Multiplication and Area

Students will…

understand and determine the area of rectangles
apply the distributive property to find the total area
solve word problems involving area

Common Core Learning Standards:

3.OA.A.3 - Use multiplication and division within 100 to solve word problems in situations involving equal groups, arrays, and measurement quantities, e.g., by using drawings and equations with a symbol for the unknown number to represent the problem.

3.OA.A.4 – Determine the unknown whole number in a multiplication or division equation relating three whole numbers. For example, determine the unknown number that makes the equation true in each of the equations 8 × ? = 48, 5 = _ ÷ 3, 6 × 6 = ?

3.OA.B.5 - Apply properties of operations as strategies to multiply and divide. Examples: If 6 × 4 = 24 is known, then 4 × 6 = 24 is also known. (Commutative property of multiplication.) 3 × 5 × 2 can be found by 3 × 5 = 15, then 15 × 2 = 30, or by 5 × 2 = 10, then 3 × 10 = 30. (Associative property of multiplication.) Knowing that 8 × 5 = 40 and 8 × 2 = 16, one can find 8 × 7 as 8 × (5 + 2) = (8 × 5) + (8 × 2) = 40 + 16 = 56. (Distributive property.)

3.OA.C.7 - Fluently multiply and divide within 100, using strategies such as the relationship between multiplication and division (e.g., knowing that 8 × 5 = 40, one knows 40 ÷ 5 = 8) or properties of operations. By the end of Grade 3, know from memory all products of two one-digit numbers.

3.OA.D.8 - Solve two-step word problems using the four operations. Represent these problems using equations with a letter standing for the unknown quantity. Assess the reasonableness of answers using mental computation and estimation strategies including rounding.

3.OA.D.9 - Identify arithmetic patterns (including patterns in the addition table or multiplication table), and explain them using properties of operations. For example, observe that 4 times a number is always even, and explain why 4 times a number can be decomposed into two equal addends.

3.NBT.3 - Multiply one-digit whole numbers by multiples of 10 in the range 10-90 (e.g., 9 × 80, 5 × 60) using strategies based on place value and properties of operations.

3.MD.C.5 - Recognize area as an attribute of plane figures and understand concepts of area measurement.

3.MD.C.6 ­- Measure areas by counting unit squares (square cm, square m, square in, square ft, and improvised units).

3.MD.C.7 - Relate area to the operations of multiplication and addition.
Grade 3 Homework, What to expect?

---

Homework is a crucial part of your child's active learning process and essential to their academic progress. Please make sure that all homework is completed daily.

Remember, you are there to support your child's learning, but homework needs to be completed by your child.
Remember to sign your child's homework every day!

Grade 3 Homework is as follows:

Reading Log:

Students should be reading at home for 30 minutes a night. Please have them record their book on the reading log. Parents should initial each night. Reading logs are collected and replaced when they are full.

Coming soon - students will be expected to write reading responses based on the books they are reading for homework. The specific assignments should stay in their homework folders.

Math:

Students will receive daily math homework from the Go Math Student Edition.

Every day your child should be studying their multiplication facts by using Reflex math.