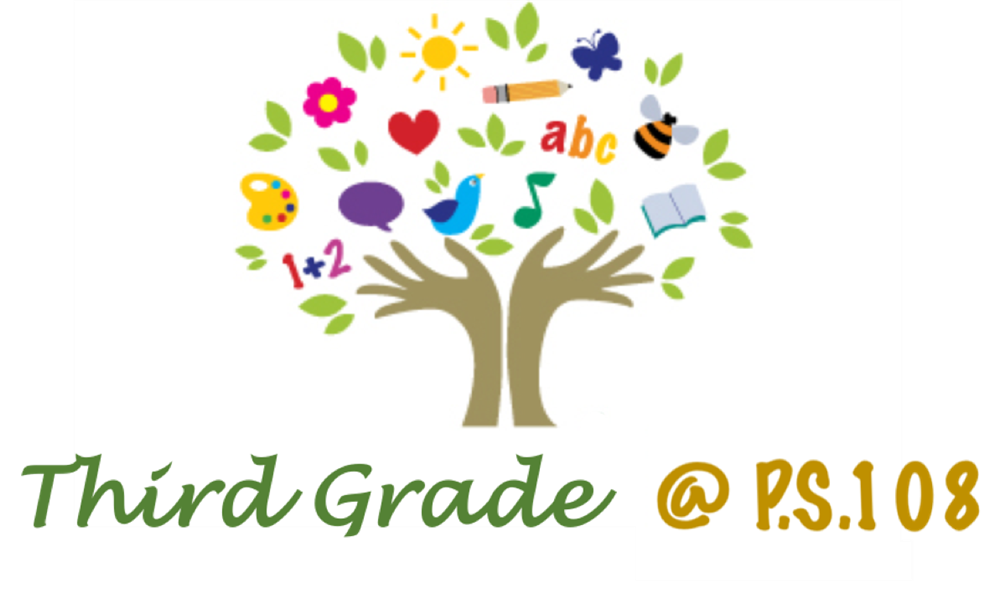 October: What is Grade 3 is studying?

ELA: Building Classroom Communities

Essential Question: How can I make my classroom look and sound like a productive and comfortable place to work with my peers?

Big Idea:

I can contribute to my classroom so that it is a comfortable learning environment that promotes learning and is inclusive of everyone.

Resources:


The Crayon Box That Talked by Shane Derolf

My Mouth is a Volcano by Julia Cook

Enemy Pie by Derek Munson

Each Kindness by Jane Addams

Spaghetti on a Hot Dog Bun by Maria Dismondy

Ms. Marlarkey Leaves No Reader Behind by Judy Finchler

The Invisible Boy by Trudy Ludwig

The Name Jar by Yangsook Choi

My Name is Yoon by Helen Recorvits

Unit of Study: Geography and Culture of the USA

Essential Question:

Social Studies: How are people, geography and culture intertwined?

Reading: How do readers choose effective strategies to help them understand complex texts?

Big Idea:

Students understand that factors such as geography, culture, and availability of natural resources impact where and how people live.

Students understand that readers use a variety of strategies and skills to understand complex text.

Resources:

Me on the Map by Joan Sweeney

How to Make Cherry Pie and See the USA by Marjorie Priceman

Children Just Like Me: Celebrations

Stormalong

John Henry/Southeast

Johnny Appleseed/Midwest

Pecos Bill/Southwest

Calamity Jane/West

Writing: Narrative Writing

Students will begin brainstorming ideas for writing personal narratives by generating seed ideas.

Students will begin to explore the writing process by recognizing and understanding the five steps. (Prewriting, Drafting, Revising, Editing, and Publishing)

Go Math!:

Chapter 2: Represent and Interpret Data

Organize data in tables and solve problems using the strategy make a table
Read and interpret data in a scaled picture graph and bar graph
Draw a scaled picture graph and bar graph to show data
Solve one- and two-step compare problems using data represented in bar graphs
Read and interpret data in a line plot to make a line plot

Common Core Learning Standards:

3.OA.D.8 - Solve two-step word problems using the four operations. Represent these problems using equations with a letter standing for the unknown quantity. Assess the reasonableness of answers using mental computation and estimation strategies including rounding.

3.NBT.A.2 - Fluently add and subtract within 1000 using strategies and algorithms based on place value, properties of operations, and/or the relationship between addition and subtraction.

3.MD.B.3 - Draw a scaled picture graph and a scaled bar graph to represent a data set with several categories. Solve one- and two-step "how many more" and "how many less" problems using information presented in scaled bar graphs. For example, draw a bar graph in which each square in the bar graph might represent 5 pets.

3.MD.B.4 - Generate measurement data by measuring lengths using rulers marked with halves and fourths of an inch. Show the data by making a line plot, where the horizontal scale is marked off in appropriate units— whole numbers, halves, or quarters.
Grade 3 Homework, What to expect?

---

Homework is a crucial part of your child's active learning process and essential to their academic progress. Please make sure that all homework is completed daily.

Remember, you are there to support your child's learning, but homework needs to be completed by your child.
Remember to sign your child's homework every day!

Grade 3 Homework is as follows:

Reading Log:

Students should be reading at home for 30 minutes a night. Please have them record their book on the reading log. Parents should initial each night. Reading logs are collected and replaced when they are full.

Coming soon - students will be expected to write reading responses based on the books they are reading for homework. The specific assignments should stay in their homework folders.

Math:

Students will receive daily math homework from the Go Math Student Edition.

Every day your child should be studying their multiplication facts by using Reflex math.