URGENT MESSAGE

P.S. 108 Parents and Caregivers;

I hope this email finds you well. Beginning on Monday, March 23, 2020 - P.S.108 will transition to an internet-based distance learning platform called Google Classroom. Since this is new for our students, I have provided a YouTube video (see below) for parents and students to watch. Watching this video will give you and your child an idea how Google Classroom works. Monitor your email inbox as teacher's will be sending invitations on Monday, March 23rd.

You may be wondering what distance learning will look like. Teachers will be following our regular school schedule, Monday-Friday. Our teachers will be available via email and Google Classroom platform to provide daily instruction, assignments, due dates, grades, and feedback on student work.

Until then, there are grade level resources for remote learning posted on our website (publicschool108.net) and the NYCDOE's website (www.schoolsnyc.gov). Please let us know if you have any questions or concerns, please do not hesitate to contact me at any time. We are here to support you and your child. Our staff's email addresses are located on the school's website - Publicschool108.net

Online Instruction Link: https://www.youtube.com/watch?v=2Iowi-gmbys

Sincerely,

Charles Sperrazza

Principal, P.S. 108

1166 Neill Ave.

Bronx, N.Y. 10504

(718) 863-9829

(718) 828-1712-FAX

URGENT MESSAGE

Dear Parents and Caregivers,

PS 108 will be transitioning to Google Classroom as our distance learning platform. An invitation will be sent to your child from his/her teacher on or before March 23rd.

Stay safe and we will continue to update as circumstances change!

Charles Sperrazza, Principal

---

Dear Parents and Caregivers,

I hope this news finds you well. In just a few days we will come together as school community for Parent-Teacher Conferences.

Parent-Teacher Conferences will be held in the afternoon and evening of November 14, 2019. Please visit the DOE website www.schools.nyc.gov and click on the School Life tab. This will direct you to helpful information concerning parent-teacher conferences and many other useful links as well!

Have a wonderful Thanksgiving!

Charles Sperrazza, Principal

Parent-Teacher Conferences

Wednesday, March 4, 2020

Thursday, March 5, 2020

Afternoon: 12:40-2:40 p.m.
Evening: 4:30-7:3- p.m.

PSA: Early Dismissal

Dismissal: 11:40 a.m.

Parents are required to attend these conferences. Will have the opportunity to meet with the teacher and recieve students report card.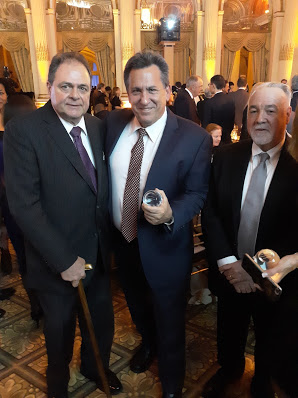 Recognition

---

Our Principal Charles Sperraza Awarded with the CEI Principal Ambassador Award December 2, 2019 at the Plaza Hotel, New York!

Due to a number of children with nut allergies, we are asking that you NOT send any lunch, snacks, or goods that contain peanuts and any other tree nuts such as almonds, pine nuts, hazelntus, cashews, peacans, pistachios, macadamia and walnuts.

Examples include but are not limited to:

Peanut butter
Nutella
Trail Mix
Almond butter/spread

We thank you in advance for your cooperation, Ms. Bernas
NOTABLE UPCOMING SCHOOL CLOSINGS

---

School will not be in session on the following days:

February 17 - 21, 2020, Mid-Winter Recess

Classes resume February 24, 2020

April 9 - 17, 2020, Spring Recess

Classes resume April 20, 2020
INCLEMENT WEATHER ANNOUCEMENT

---

During snow and icy conditions, when school openings may be in doubt, please listen to 880 or 1010 AM on the radio. These stations announce school closings beginning at 6:00 AM each morning. You can also check the DOE website at www.schools.nyc.gov or call 311. If schools do open please be advised that elementary schools do not dimiss early. You may, if you wish, collect your child following the standard sign out procedures.