JULY NEWSLETTER

Dear Parents and Caregivers:

I hope this newsletter finds you and your loved-ones well. I am writing to share information as the DOE's continues to plan for the re-opening of school. Please note, 2020-2021 school model will be contingent upon many factors. The general idea is that when school re-opens we will follow a blended learning model. This means students will have the opportunity to learn in the physical school building and remotely at-home, however, parents may choose to opt-out of the blended model and have their child learn full-time at home.

Schedules and programming models will be developed based on Department of Health and building space capacity guidelines. Below are some dates for your review:

JULY

July 15: The target date for the DOE to release an application for families to choose full-time remote learning for their children.
July 23: There will be a revision of city guidance to schools, based on New York State guidance. Schools will then submit their initial programming model choice.
July 31:Districts and schools in New York State must provide the State Education Department with live, public links to re-opening plans for every school under their responsibility, as well as, the assurance that plans contain all the mandatory elements outlined in NYSED's Reopening Guidance Document.

AUGUST

August 7: The family sign-up application for full-time remote-only learning will close.
Based on submitted plans, a final decision on whether a school district can reopen for in-person learning in New York State is expected to be made.
August 14:Schools will submit their final programming choice model.

Family and Student Information Sessions

The DOE is hosting virtual citywide information sessions for students and families before the start of the 2020-2021 school year.
Select your preferred language, and submit a question.
Sessions are scheduled for Tuesday, July 28, Wednesday, Aug. 12, and Thursday, Aug. 27. You can register here

SCHOOL CALENDAR

Other important updates:

P.S. 108 Expansion Project-

The P.S. 108 Expansion Project continues to remain on pause. This information was communicated from the School Construction Authority (SCA) to the principal in late June. This information was shared with parents and teachers at the last School Leadership Team (SLT) Meeting on June 23, 2020. Additionally, the principal made the recommendation to the SLT to start a steering committee involving parents and caregivers in order to provide input on the design and programs of the future school to the SCA.

Parent Concerns/Technology Issues –

Contact- P.S. 108 Parent Coordinator - Mrs. Giorgina Rodriguez at GRodriguez23@schools.nyc.gov

Fall Registration-

Contact –Mrs. Marie Koutoulas, P.S. 108 Pupil Accounting Secretary at Mkoutoulas@schools.nyc.gov

A Special Note of Thanks – To parents, students, and staff that participated in the virtual graduation/moving-up drive by event held on June 24th.

Sincerely,

Charles Sperrazza-Principal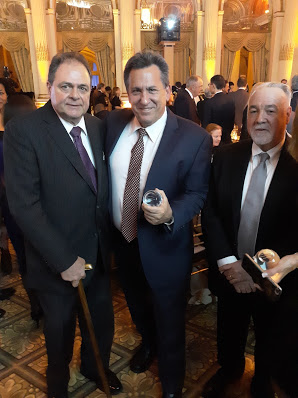 Recognition

---

Our Principal Charles Sperraza Awarded with the CEI Principal Ambassador Award December 2, 2019 at the Plaza Hotel, New York!

Due to a number of children with nut allergies, we are asking that you NOT send any lunch, snacks, or goods that contain peanuts and any other tree nuts such as almonds, pine nuts, hazelntus, cashews, peacans, pistachios, macadamia and walnuts.

Examples include but are not limited to:

Peanut butter
Nutella
Trail Mix
Almond butter/spread

We thank you in advance for your cooperation, Ms. Bernas
INCLEMENT WEATHER ANNOUCEMENT

---

During snow and icy conditions, when school openings may be in doubt, please listen to 880 or 1010 AM on the radio. These stations announce school closings beginning at 6:00 AM each morning. You can also check the DOE website at www.schools.nyc.gov or call 311. If schools do open please be advised that elementary schools do not dimiss early. You may, if you wish, collect your child following the standard sign out procedures.