URGENT MESSAGE
P.S. 108 Parents and Caregivers;
I hope this email finds you well. Beginning on Monday, March 23, 2020 - P.S.108 will transition to an internet-based distance learning platform called Google Classroom. Since this is new for our students, I have provided a YouTube video (see below) for parents and students to watch. Watching this video will give you and your child an idea how Google Classroom works. Monitor your email inbox as teacher's will be sending invitations on Monday, March 23rd.
You may be wondering what distance learning will look like. Teachers will be following our regular school schedule, Monday-Friday. Our teachers will be available via email and Google Classroom platform to provide daily instruction, assignments, due dates, grades, and feedback on student work.
Until then, there are grade level resources for remote learning posted on our website (publicschool108.net) and the NYCDOE's website (www.schoolsnyc.gov). Please let us know if you have any questions or concerns, please do not hesitate to contact me at any time. We are here to support you and your child. Our staff's email addresses are located on the school's website - Publicschool108.net
Online Learning Instructions: https://www.youtube.com/watch?v=2Iowi-gmbys
Sincerely,
Charles Sperrazza
Principal, P.S. 108
1166 Neill Ave.
Bronx, N.Y. 10504
(718) 863-9829
(718) 828-1712-FAX
P.S. 108 Vision
Our vision is to provide a comprehensive, rigorous, exciting educational program with an emphasis on literacy and mathematics development that is aligned with NYS and NYC performance standards. Guided by the principles of learning, students are challenged to think critically. Inquiry, analysis, problem solving and decision-making are integral parts of an educational program that allows students to achieve individually and cooperatively. Our collaborative spirit seeks to nuture and support the whole child. Through academic and artistic endeavors students develop self-confidence, tolerance and independence while celebrating similarties and diversity. Educators and parents support efforts to increase students' access to information with a growing emphasis on technology. P.S. 108 recognizes its responsibility to prepare students not only for the next level of education but also for the many challenges facing productive citizens of an ever-changing society.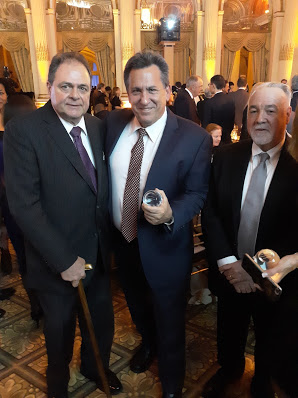 Recognition
---
Our Principal Charles Sperraza Awarded with the CEI Principal Ambassador Award December 2, 2019 at the Plaza Hotel, New York!
P.S. 108 Mission
Our mission is to foster the optimum achievement of students by empowering them with the knowledge and skills necessary to succeed in a complex, global society.