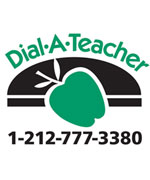 What is Dial-a-Teacher?

Dial-a-Teacher is an award-winning program which provides inline homework help for elementary and middle school students attending New York City public schools. Students and/or parents are invited to call the hotline - staffed by classroom teachers experienced in all subject areas. Teachers are able to connect and download student assignments in order to guide students as efficiently as possible. This program now of use for over 30 years, feel free to contact for any of your homework needs!

Contact & Availability:

Number: (212)-777-3380
Available: Monday-Thursday, 4:00PM -7:00PM

Be sure to have:

Materials ready (meaning homework out and opened to any questions that may need to be asked)
Student First Name only
School Name: (P.S. 108, Bronx)
Student Grade

*Dial-a-Teacher will be closed for summer vacation.
Languages Available

---

Armenian

Bengali

Chinese (Mandarin, Cantonese and Fukanese)

English

French, Haitian-Creole

Korean

Russian,

Slovak

Spanish

Tagalog
Division of Specialized Instruction and Student Support
URGENT MESSAGE

With schools closed and kids at home, many parents are facing added stress. Here are ways you can destress:

As we remain in our homes for extended periods of time to help stop the spread of COVID-19, parenting can be especially challenging.

Many parents are looking for advice on how to speak with children about COVID-19. Below are some helpful videos and activity sheets:

PBS: Read this article from PBS Kids that provides helpful tips about talking to children about COVID-19.

Sesame Street: Our friends at Sesame Street created a guide on how to discuss COVID-19 with young children.

Dear Parents and Guardians,

Below are a few resources for potential support locations. For 1st Responders in need of child care the following Enrichment Center Sites are located :

PS 96

PS 106

PS 311

PS 189

Also for students in need of a laptop please contact the Department of Education at: (718) 935-5100!
Please Review: Parent Bill of Rights
Declaración de Derechos y Responsabilidades de los padres
Interactive Links for Parents & Students